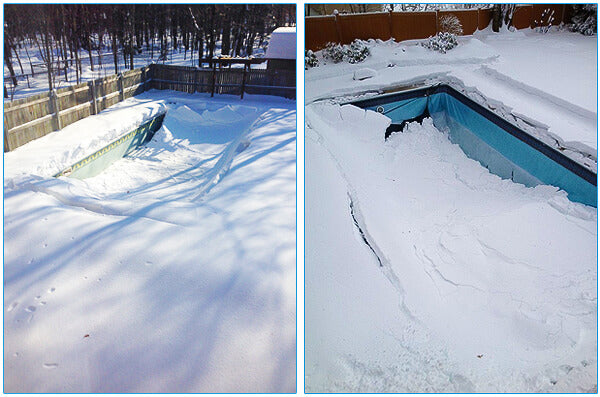 Pool Improvements
Pool Safety
Summer
Common Pool Cover Issues and How to Repair Them
The best automatic pool covers offer a myriad of long-term advantages for commercial and residential pools. You get to reap all these benefits from safety and convenience down to lowered pool maintenance costs. Unfortunately, you may come across a few pool cover issues.
So, you're enjoying your pool deck cover, and suddenly… There's a problem! Obviously, you'll need to have it working as soon as possible. But what if we told you that there's a way to prevent those from happening and ways to repair them?
It all begins with learning what pool cover issues there are to watch out for! Read on whether you own a motorized pool cover, solar cover roller, or roll up pool covers. We'll show you the common problems and how to repair them.
Common Pool Cover Issues
Even the best automatic pool covers come across issues that can be prevented and repaired.
Here are the following pool cover issues to watch out for in roll up pool covers, motorized pool cover, solar cover roller, and the like.
Pool Cover is Filled with Snow or Water
Water and snow can weigh down on a pool cover, causing it to sag. If it gets too heavy, the pool cover can rip!
The obvious solution is to get rid of the snow or water, but don't try removing ice or snow with ice picks or shovels. That can damage the cover if you do it incorrectly. Instead, wait until the snow or ice begins melting, using a water pump to remove the water.
If you leave excess water on your pool for too long, it can attract worms, which attracts birds, and they can peck through the cover!
Pool Cover is Saturated with Debris
Similar issues occur when leaves and debris stay on the pool cover. It would start sagging and tearing!
That's why it's essential to remove the debris right away using a pool leaf rake. You can also get a leaf net to place before leaves and debris fall, taking it off before the winter season begins.
Slips Into Your Pool
The cover starts sagging or slipping into the pool because of heavy snowfall or not securing the pool properly. That may cause algae, water, and other debris to seep into the pool. It might be dangerous if you have children or pets, as they can fall into the pool!
So, if your pool cover starts slipping into the pool, you need to remove the water or debris, weigh it down, and tighten the straps holding it. If that doesn't work, bend down and pull the cover as tightly as possible. Don't use bricks or other heavy objects because there's a chance they'll slip into the pool, causing even more damage.
If needed, you can use water tubes to secure pool covers.
Ripped, Patched, or Torn
There are so many different things that can cause a pool cover to tear, such as animals, debris, or falling tree branches. Sometimes, it's inevitable but repairable. For small patches, you can use a pool cover patch kit.
However, if the tear looks too big for a patch kit, purchasing a new pool cover would be better. Check your pool cover regularly to remove debris or fix small patches before they worsen to prevent tears from happening.
Pool Cover Won't Open or Close
You're about to close or open your pool when… Surprise! It doesn't operate!
Weirdly enough, this issue would always happen right before or after large gatherings, making it all the more irritating. Well, some reasons may cause the pool cover not to open, such as:
Power Loss – Like other appliances and equipment, the breaker may trip. As a result, your automatic pool deck cover won't receive any power. This may be a power surge and require you to reset your breaker, though it may also indicate something more serious.
Broken Rope – Some roll-up pool covers are built with rope, and those ropes can break because of age or underlying issues. It would require replacement, costing $400-700.
Cover Off Tracks – Operating your pool deck cover would come with basic instructions, one of which is learning when to stop the cover to avoid opening it too far. If opened or closed too far, the cover comes out of the track, damaging the cover material or breaking the glider or rope.
Fortunately, here at Auto Pool Reel, our products do not have any issues with tracks, ropes, pulleys, and the like! That's because our pool covers do not carry any of these parts. Instead, our covers are made of high-quality materials that will have the best automatic pool covers lasting with minimal maintenance needs.
When to Repair or Replace Your Pool Cover
Whether it's time to replace or repair your cover will depend on various factors, including:
The pool cover's age
The extent of the damage
The repair materials used
How you'll repair it
If your pool cover is only a few years old and shows no signs of deterioration besides the issue at hand, then repair may be needed. However, if the extent of damage is quite large and the repair costs at least 50% of a new pool cover, it may be best to replace it.
That is why it's crucial to invest in quality pool covers and pool roller, you can get your automatic roller from Auto Pool Reel! We offer reels made with solid and durable materials to last, along with a warranty for your peace of mind.
Wrapping It Up
Issues surrounding your pool cover may be inevitable, but that doesn't render your product broken! It's important to know the potential issues your cover may have so you know how to prevent them or repair them when the time comes.
If you're still searching for the best automatic pool covers like a motorized pool cover, solar cover roller, or simple pool deck cover, contact us now! Here at Auto Pool Reel, we can provide exceptional services and products suitable for your pool's needs and protection.