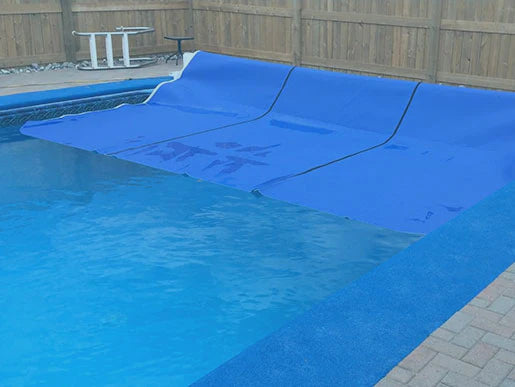 Pool Improvements
Pool Safety
Summer
Eye-Catching Yet Practical Pool Investments for the Winter Holidays
As winter approaches, no homeowner would think that it would be a good idea to jump into the pool. But hey, if you make practical pool investments for the winter holidays, you just might make your pool a winter wonderland for everyone. That's right, it's possible to continue enjoying your pool and its surroundings come wintertime, whether you have an oval pool with deck or an above ground pool.
But you're probably wondering – What should you start investing in for your pool this winter? Check out these practical pool investments for the winter holidays!
Eye-Catching Yet Practical Pool Investments for the Winter Holidays
A pool alone is a huge plus for a homeowner. But of course, there are other things you can do to spruce up your pool and surrounding area to make it more enjoyable for everyone. From pool decking ideas to in-ground spas, here are practical pool investments for the winter holidays:
In-Ground Spa
If you want to ease your tired muscles or feel a bit warm during a cold night, invest in an in-ground spa. An in-ground spa is an excellent place for people to unwind, which is perfect after a hard day's work. 
You can even build a hot tub that spills over into the pool. There are so many ways you can incorporate your mini spa into your pool to make it accessible and look great.
Added Lighting
Whether you plan on going night swimming, hanging out in your in-ground spa, or lounging by decks for above ground pools, you can never go wrong with good lighting. Adequate lighting won't only add to your outdoor area's aesthetics, but it will also ensure everyone's safety and comfort while outdoors, especially when it's dark out.
Besides installing lighting fixtures above and around your pool, you may want to invest in underwater lights as well. This will make the pool even more gorgeous at nighttime, adding an aesthetic element.
Outdoor Shower
This is a very practical investment especially when you live near a sandy area. Before anyone jumps into the pool, request that they take a quick shower to rinse their bodies off any dirt, sand, or debris. This will keep your pool clean from sand and debris, too.
Outdoor showers aren't only useful before using the pool. They can also be used by kids and pets after playing rough outdoors!
You can make your outdoor shower look aesthetic by adding rocks, texture-designed tiles, and other useful features to upgrade everyone's experience.
Pool Area Furnishings
Besides the pool, think about the things that go around it. Even during winter, it's always a fun day out, as long as you invest in the right furnishings and pool decking options. For those who haven't upgraded their deck, it might be time to do so.
Fortunately, there are so many inground pool deck ideas you can try, ranging from budget-friendly to more extravagant options. Either way, when you upgrade your pool deck, you and your family will most likely make even more memories, so you get your money's worth.
Upgrading your pool area is more than just painting the best color for a concrete pool deck. It can also involve adding comfortable seats, shade, and even a firepit for everyone to have fun conversations over s'mores. 
If you have a higher budget, consider having a pool enclosure installed. This can truly make your pool ready to use even during the coldest winter days! Everyone will be snug and comfortable inside the enclosure while still being able to enjoy the beautiful outdoor views. 
You can have your enclosure built in a way that it only covers your pool area, or extend it for more space. That way, you can enjoy a nice barbecue with loved ones even when it's snowing!
Pool Heating
If you haven't invested in a pool heater yet, now is the time to do so. It will extend your swimming season throughout winter and keep everyone comfortable.
Plus, it's quite a unique experience! When you swim in warm water, you are more motivated to move on chilly days while soothing your muscles. It's definitely worth the investment if you swim regularly no matter the weather.
Tools to Winterize Your Pool
This part isn't really eye-catching, but it sure is a practical investment! When you invest your time, money, and resources into caring for and winterizing your pool, the benefits come back tenfold. 
Not only will you have a pool usable 24/7, but you prevent costly damages and repairs that come from neglecting your pool. Here are the practical investments that will help keep your pool in great condition during winter:
Invest in a pool cover to protect your pool when not in use. There are winter pool covers out there coming at affordable prices and in various colors to match your overall design. Winter pool covers will ensure that debris won't enter your pool, lessening your need for cleaning.
While pool accessories are a great investment, they must be removed when you aren't using the pool. Skimmer baskets, pool alarms, ladders, and the like must be dried and stored properly.
Invest in pool chemicals to balance your water's chemistry so that even when your pool isn't in use, the water will stay ready for spring. Test your pool water before adding chemicals to avoid any issues. You may also want to consider shocking the pool.
Wrapping It Up
You don't need to completely desert your pool and outdoor space just because winter is coming. There are so many things you can do to transform that area into a place that's still usable and enjoyable even with the cold. There's no need to wait until spring or summer to jump into the waters! 
We hope that these above ground pool deck ideas and other practical pool investments for the winter holidays helped you out. If you're still looking for a fantastic pool cover to protect you and your pool during the winter holidays, contact us now!