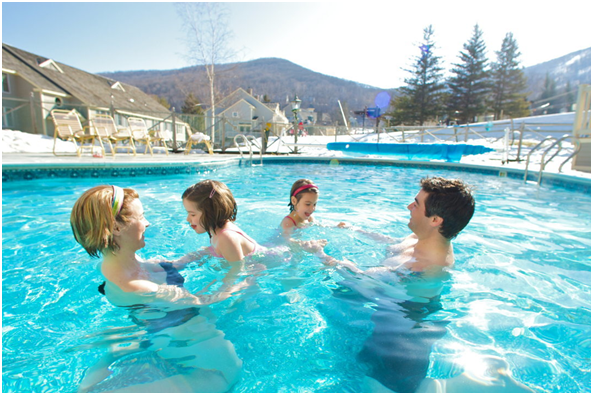 Pool Improvements
Pool Safety
Summer
Savvy, Smart People Use Thermal Pool Cover
Do you want to swim but hate the cold out there? Cold air and freezing water? By a stroke of good fortune, we have a thing called "thermal pool cover" or "thermal pool blankets" to help you!
Temperature is a crucial, key factor for all living things, just like water temperature is everything to achieve ultimate satisfaction and enjoyment in your swimming pool. Imagine mindlessly jumping in and swimming and splashing the water together without having to worry about freezing in the cold. You could not just resist the idea after a day of hard work, which makes night swimming a perfect getaway.
A thermal pool blanket acts as a thermal cover on the surface of the pool. It effectively traps the heat inside the pool water to avoid evaporation and keep warmth underneath. Let the thermal pool serve its purpose since you cannot wear feather or fur-made swimsuits to keep you warm while swimming.
Thermal blanket for pools are made from a high-quality multi-layered, foam-based material. Multi-layered foam covers comprise 100% closed-cell polyethylene foam. That means to say the foam is placed on the top with a thick packaging material while the part in contact with the water is made from transparent non-stick scratch-resistant film.
Thermal pool covers make your swimming cozy and comfy.
People use thermal pool blankets in order to maintain a pleasant and desired water temperature for their ultimate satisfaction. Because your pool will most likely lose its warmth overnight when the temperature drops, thermal pool covers used on outdoor pools will help retain the heat, stopping almost 75% of heat loss.
Pool thermal blankets will also act as an insulator to prevent the heat from escaping the pool water. Maintaining warmth in the pool water will keep your comfortable and relaxed swimming experience all through the night.
Snap away; you don't need to put chemicals over and over.
Nobody wants to swim in a pool full of dirt and algae! Pool algae are a common problem for pool owners. Algae spores love to reproduce when raining and even, for no reason, when the pool is exposed to nature for hours. They also form in contaminated pool tools or swimsuits.
When you keep a pool thermal blanket rolled over your pool, it will block evaporation of chemicals from the pool water up to 95%, preventing algae growth. In this case, you do not have to worry about frequently adding chemicals to your pool for sanitization, and keeping your pool tidy. With the help of a thermal blanket, you will reduce the amount of chemicals you need to use to maintain your pool's cleanliness.
Owning a thermal pool cover helps you save electricity bills.
Some pool owners use excessive electricity or natural gas when heating or warming the pool water. But you can get away with this.
When your pool is not in use and a thermal pool cover is in place, the warmth trapped in the pool water is retained until the pool is ready to use again. You don't need to run the pool water heater as often because of the heat contained by the thermal pool cover.

Thermal pool cover is the king of durability.
The cover is also more durable than other blankets, such as solar pool covers. They are specially designed to withstand the UV rays from the sun and corrosive pool chemicals. Unlike solar covers, thermal pool covers carry a longer warranty against UV degradation and reasonable months against delamination.
Most thermal pool covers tend to last at least ten years of continuous use. It is long-lasting because polyethylene is a dependable plastic material. The air sockets of a thermal pool cover are also designed to have less contact with the water's surface when not in use.
Enjoy a forever new-looking and functioning swimming pool.
"Forever" sounds an upfront exaggeration, but a thermal blanket for pool can extend the new look and functionality of your swimming pool much longer than other pool covers for indoor pools.
If you own an indoor pool and you constantly find yourself complaining about excessive moisture on the wall or ceiling and corrosive condensation of the metal components of your swimming pool, thermal pool blankets can help you out. Because thermal cover massively reduces evaporation of water and chemical, you wouldn't have to worry about the pool water eating away the metal components of your heater, and pump parts, extending the functionality of your swimming pool.
Summary:
With all that's said, it's safe to say that pool covers are worth the investment! It saves you three important things in life:
Money - you reduce your heating costs and maintenance bills if you use thermal

blankets

for pool.

Time - you can spend more time swimming rather than cleaning.

Stress - you don't worry too much about replacing the parts of your swimming pool equipment.
Read also Automatic Pool Cover Maintenance Tips