Pool Improvements
Pool Safety
Summer
10 Must Have Pool Features
Swimming pools are a fantastic addition to any home, offering a place for relaxation, exercise, and entertainment. When building a pool, there are several pool features to consider that can enhance your swimming experience and make your pool the ultimate oasis. In this article, we will discuss 10 must-have pool features that you should consider when building your dream pool.
10 Must Have Pool Features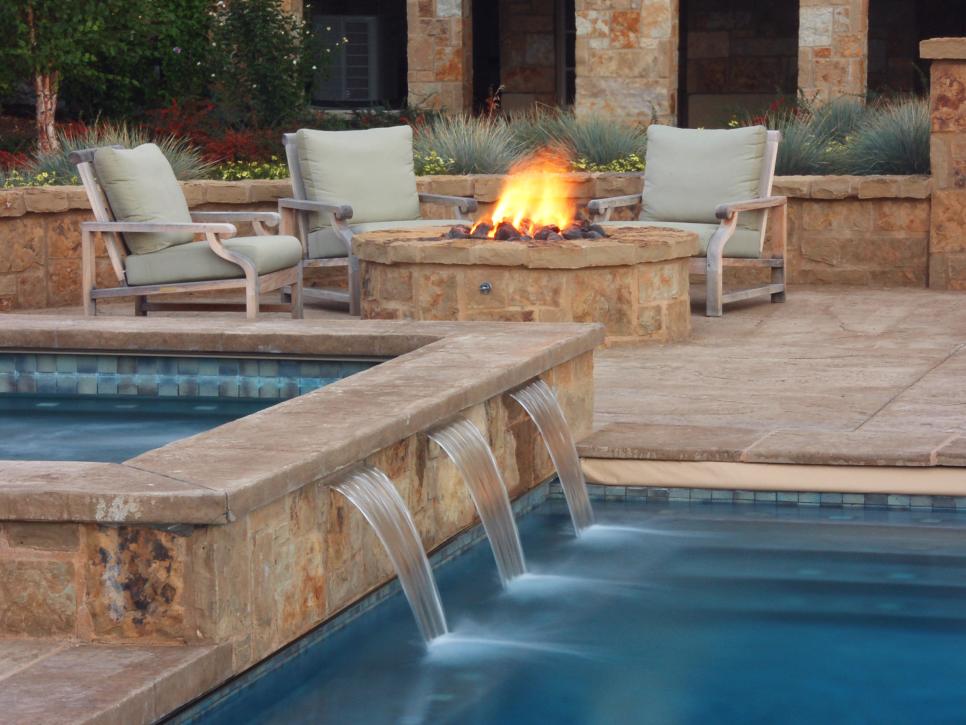 Infinity Edge
Infinity edges are one of the best swimming pool features that provide a stunning visual effect. They create an illusion of a never-ending pool, as the water seems to overflow into a lower basin, giving the impression that the pool has no edge. This water feature in swimming pools offers a luxurious and elegant look that is perfect for homes with a scenic view.
- Consider adding LED lighting to the infinity edge for a stunning nighttime effect.
- Use materials such as glass, tile, or stone to create a seamless transition from the pool to the infinity edge.
- Incorporate an infinity edge into a vanishing edge pool design for a more dramatic effect.
Waterfalls
Waterfalls are another popular water feature in swimming pools that add a touch of tranquility to your outdoor space. These must-have pool features create a relaxing sound that adds to the overall ambiance of your pool. Waterfalls can be designed in various shapes and sizes, and they can be incorporated into natural or modern swimming pools.
- Combine a waterfall with a natural rock formation for a more organic look.
- Create a multi-tiered waterfall for a more dramatic effect.
- Use LED lighting to illuminate the waterfall for a stunning nighttime display.
Spa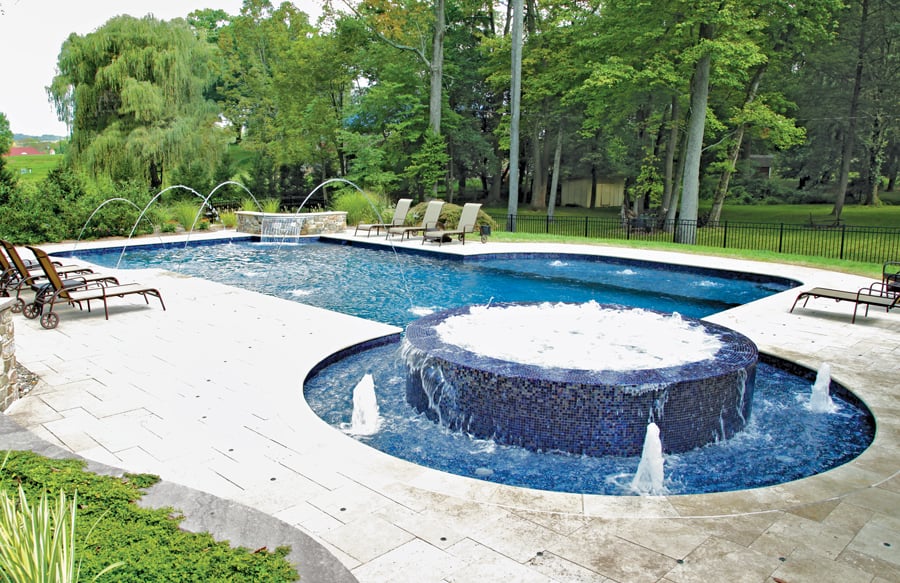 A spa is a must-have swimming pool feature for those who enjoy relaxation and hydrotherapy. Spas can be built into the pool or as a separate feature. They provide a warm and bubbly atmosphere that helps to relieve stress and soothe sore muscles. A spa is a perfect addition to a pool if you want to enjoy a complete water experience.
- Consider adding massage jets for a more therapeutic spa experience.
- Add a heating system to the spa for year-round use.
- Create a separate seating area near the spa for a more intimate space.
Lighting
Lighting is a crucial aspect of swimming pool features known to greatly improve a pool's safety and visual appeal. We highly recommend getting LED lighting because there are various colors to choose from and you can control the lights via remote. You may even add underwater lighting to illuminate your pool's water features like waterfalls or fountains. 
- Use lighting to highlight pool features such as waterfalls or fountains.
- Consider adding fiber optic lighting for a starry night effect.
- Use lighting to accentuate the pool's architecture or surrounding landscape.
Fire Features
Fire features, like fire pits and fire bowls, can add more elegance and warmth to any outdoor living space. This feature creates an intimate and cozy atmosphere perfect for entertaining guests or swimming at night. You can integrate fire features into your pool design or pool deck. 
- Combine a fire feature with a water feature for a stunning contrast.
- Consider adding seating around the fire feature for a cozy gathering space.
- Use natural materials such as stone or brick to create a rustic look.
Pool Cover
Pool covers are one of the must have swimming pool features as it helps maintain your pool's safety and cleanliness. A high-quality pool cover will help prevent leaves, debris, and insects from entering the pool. This will then reduce the need for frequent cleaning. Moreover, a pool cover, will help reduce heat loss and evaporation, thus saving energy and reducing water usage.
- Consider investing in an automatic pool cover for easy use.
- Select a pool cover that complements the pool's design.
- Use a solar pool cover to heat the pool naturally.
Water Jets
Water jets are another popular feature that adds excitement and fun to your pool experience. They create a stream of water that can be used for swimming, exercise, or relaxation. Water jets are also great for creating a current, making swimming laps more challenging. 
- Add a water slide or a water park-style feature with water jets for a fun pool experience.
- Use water jets to create a bubble pool for relaxation.
- Incorporate water jets into the pool's steps for a unique look.
Pool Automation
Pool automation is a must-have feature for those who want to have complete control over their pool's operation. It allows you to monitor and adjust the pool's temperature, lighting, and water features from your mobile device or computer. With pool automation, you can save time and money while enjoying a hassle-free pool experience. 
- Use pool automation to control the pool's pH levels for optimal water quality.
- Consider adding a weather sensor to the pool automation system for energy efficiency.
- Use automation to schedule pool maintenance, such as cleaning and chemical treatments.
Tanning Ledge 
A tanning ledge is a shallow area in the pool that allows you to lounge and soak up the sun. It's a must-have pool feature for those who want to relax and enjoy the pool without getting wet. Tanning ledges can also be used as a play area for young children or as a step for easy access to the pool. 
- Add an umbrella or canopy to the tanning ledge for shade.
- Use the tanning ledge as a space for potted plants or small garden features.
- Incorporate a built-in cooler or mini-fridge into the tanning ledge for easy access to cold drinks.
Built-in Seating
Built-in seating is a great addition to any swimming pool, providing a comfortable place to relax and enjoy the water. It's a must-have pool feature for those who want to entertain guests or enjoy a quiet moment in the pool. Built-in seating can be incorporated into the pool's design, creating a seamless and functional feature.
- Use built-in seating to create a conversation area near the pool.
- Add a built-in table to the seating area for outdoor dining or entertaining.
- Use built-in seating to create a sunken lounge area for a more intimate space.
Consider any of these must have pool features in your pool today! If you're looking to have a pool enclosure installed for proper protection, don't hesitate to contact us for more information on our products.